New PC Experience
Hey Dad! Come feel how powerful!
About 2 weeks ago now, the
new PC
arrived on my doorstep! When I got the phone call from my wife that it had arrived, I was told by several co-workers that I should really just head home early so I can get some play time in..
This awesome box arrived from Digital Storm exactly on schedule. In fact, I had contacted them and asked that it not deliver over the 4th of July weekend and they delayed it until Monday afterwards.
Contents
:
Welcome packet with install media - Windows install disk, drivers, manuals, getting started flyer, cables
Computer
The PC was extremely well packed for the 200 mile delivery. My brother, who does deliveries, was worried about ordering off the Internet. When my PC arrived, it was packaged similar to their image on the Internet. A mini trampoline of sorts to absorb all the bumps from shipping. Inside the case, I found that they had shot the case full of foam packaging. Two thumb screws later and I removed the additional protection. Overall, it's a really good sign when you plug in the PC and it works perfectly.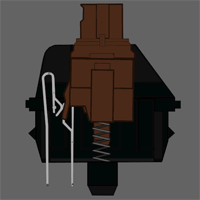 Cherry MX Brown switch
Since my plan was to waterfall the old PC to my kids, I also bought a new
keyboard
and
mouse
. I invested in a Corsair Vengance K70 keyboard, which has "
Cherry
MX Brown" mechanical switches. This keyboard uses mechanical switches which have a very tactile feel and louder, audible click when typing on it. I liked the "brown" as they are advertised as a good mixed gamer/typing key. Friends have bought the 'blue' because it has an audible click like that old keyboard from my 286 days. The mouse has a wonder tactile feel to it, very smooth, very easy to use. Windows immediately recognized the mouse when I plugged it in, so I haven't installed the specific drivers. I hope to get this updated soon so I can start using all 8? of the buttons on this mouse. My only complaint, the mouse has blue LEDs, and the keyboard red. (
UPDATE
: This morning I found that this keyboard cannot handle SHIFT+SPACE. I use this combination while in PVP to both run (S) strafe and jump. /pout).
Performance-wise, the PC is awesome. Going from the Core2 Duo, to an i5 processor was an enormous performance jump. WoW is now running a good 60 fps in ultra everything mode. Sadly, I don't really see a
difference in the game
. Maybe the shadows are a little bit better defined? Shinier sparkle effects? Maybe... I have started playing the beta on the new PC. Over this next week I will try logging into the game on both the old and new machines and grab some screenshots.
In the meantime,
Assassins Creed 4: Black Flag
has been getting a lot of play time; soon
Wolfenstein: New Order
. I'd like to finish the Legendary quest line, but only during the
Gaze of the Black Prince
(
now until 7/29/2014
!!), 4 LFRs and only 2 drops was PAINFUL!! Only need 7 more secrets needed to complete
Secrets of the First Empire
... Next
Titan Runestones
..
What happens when I unplug this?