Now I Feel Dumb.. :)
The other day, Blizz linked to a spanish youtube video put out by Hols. This video detailed how to get the new
booterang
"toy but not a toy" from 6.2.2. Watching the video, I notice that Hols IS WEARING GUL'DAN'S shoulders! Yeah, not the corruptor set like I substituted with, but the same model.
So, I start by searching the US armory.. (can't select EU for some reason), so I searched Korean, Taiwan, China and Southeast Asia as well.. No
Hols
.
"Change" button disabled going from US to EU.
Quick Internet search, I found "
WarcraftRealms.com
". This site lets me put in a few specifics, [level 100], [mage], [blood elf], ["Hols"] and it returned exactly who I wanted.
Hols @ Uldum-EU
Looking up his
shoulders
, I found they share the same model with the
warlock HFC tier set
. The
normal
version of these shoulders of these don't appear to have the spikes, but the
Mythic
one does!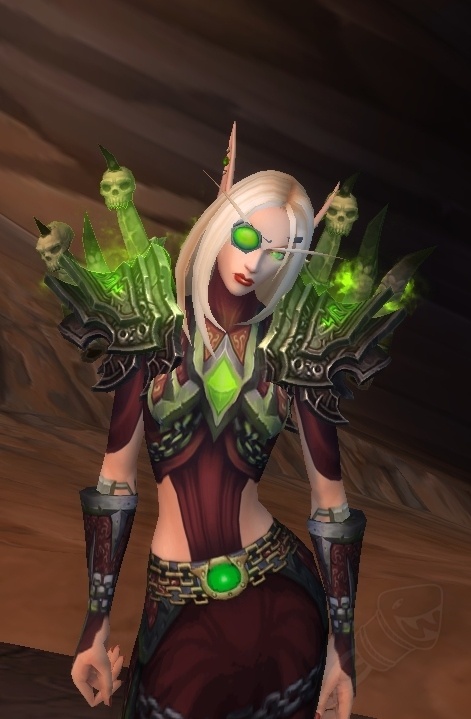 Sigh, I don't see me running Mythic HFC any time soon (until I can solo it)... I guess I should have looked at the tier gear announcements, probably all over MMO-Champion (like
back in Sept 2014
).
At least, my xmog has only cost me a little bit of gold, some idle honor points and running old content (might try again for
Ashes
).